Chessie FCU: Ray Beall
The MD|DC Credit Union Association has presented Chessie Federal Credit Union Board Chairman Ray Beall with the 2022 Volunteer of the Year award.
The honor was announced at the Association's annual meeting and convention in Ocean City, Md.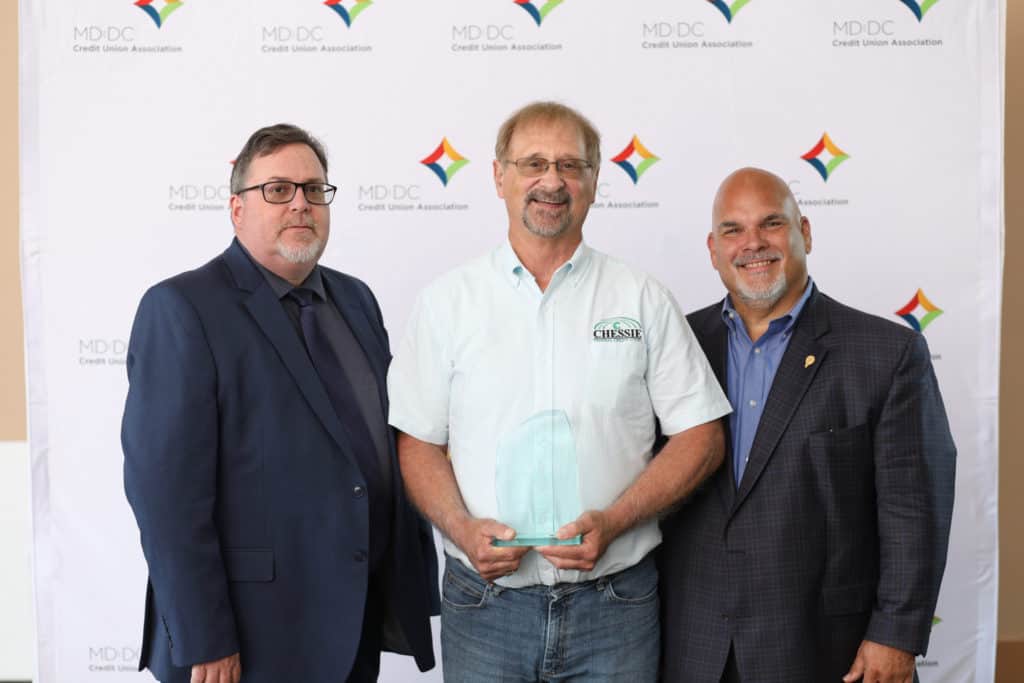 "Ray deserves to be recognized with this honor for his decades-long commitment to volunteer service," said Scott Kline, President and CEO, Chessie FCU. "He is the type of chairman who is very involved with the credit union and the community. He is always looking to the future and finding ways to better serve our members."
Ray Beall's Commitment
Ray was elected to the board in 1995 and has served as Board Chairman for the past 11 years. During that time, he has helped guide Chessie FCU through two mergers and its growth from under $250 million to $435 million in assets. Ray was instrumental in acquiring a new corporate headquarters and facilitated the development of a business loan/account division. As a successful local business owner, Ray has been influential in helping streamline and reduce costs for Chessie FCU.
"Ray embodies the true spirit of a credit union volunteer." said John Bratsakis, President/CEO, MD|DC Credit Union Association. "He is generous with his time and talent and is unwavering in his support of Chessie and his community. Every credit union needs a Ray Beall!"
Ray frequently sports his Chessie FCU shirts, hats, and jackets, but when the holiday season rolls around, he dons a red suit and white beard to deliver gifts he and his family have picked up for local children who might not otherwise receive what's on their Christmas lists.
A giving and generous man
According to his wife Bobbie, Ray is motivated by what's in his heart. "He is generous with his time and spirit. He's the most giving person I've ever known. And he's humble. He doesn't do things for the glory, he does it because it's the right thing to do."
Passionate about bettering his local community, Ray serves on the Cumberland Housing Authority Board and in an advisory capacity to an organization focused on the revitalization and renewal of the City of Cumberland and surrounding areas. Ray also serves on his church board as President and volunteers and supports local animal shelters and rescues. He has been a board member of the March of Dimes and the Cumberland Historic Preservation Commission. Ray has also worked on an outreach program to help veterans with addictions.

Ray is a member of the National Association of Credit Union Chairmen and the Credit Union Executives Society. He is also involved in the MD|DC Credit Union Association's Directors Forums.
The MD|DC Credit Union Association's Volunteer of the Year award recognizes a volunteer who has selflessly contributed time, effort, and talent to the growth and development of a credit union.


Since 1948, Chessie FCU has been the area's local Credit Union. At the top of the services we provide is our lending departments- mortgage, consumer, and business lending. With a combined 70 years of experience between our management team, Kim, Shaunna, Patty, Katie, Scott, and Jessie have built their departments to meet all of your needs. President and CEO Scott Kline says "Our team is top of the line when it comes to hard-working professionals who do what they need to do to get the job done for our members."
Consumer Lending
Kim Fields and Shaunna Lewis have just recently teamed up to lead the Consumer Lending Department. They are both "happy to be working for such a great Credit Union and feel blessed to work with our members and team to help provide the best experience possible." Whether you are coming into a branch, calling the LOANPHONE or financing through the dealership, Kim and Shaunna have their experience and service working for the member to have a pleasant and efficient lending experience with Chessie. Shaunna says, "Instead of providing a place where the member can find an answer, we want to walk them to it. It is a small change that will not cost us much more time, but will make all the difference for the member."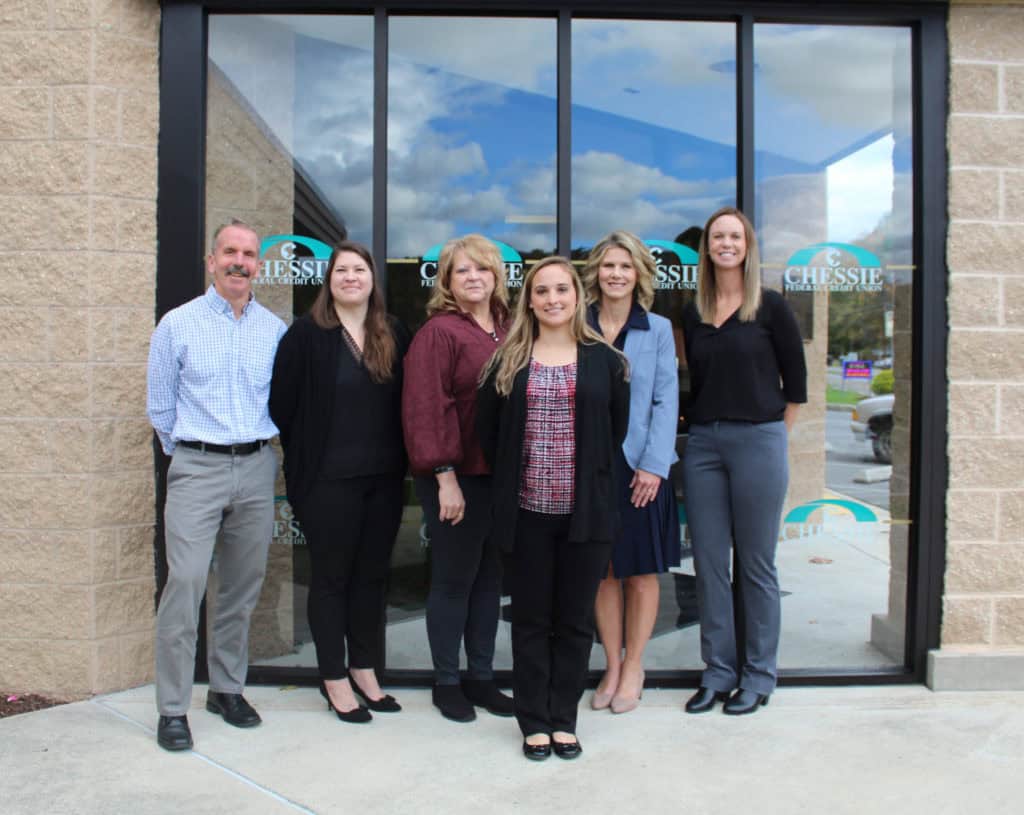 Mortgage Lending
Buying a house can be a daunting and stressful process, that is why our Mortgage Department is here to help you along the way. Patty Kunis and Katie Kuhn are the hard-working management team leading our mortgage department. They know the importance of every aspect of the mortgage process and are going to be there to make sure you are moved into your dream home! Patty Kunis says, "It's a pleasure working with our members. We strive to help them be successful during the homeownership process. We want them to have a pleasant and smooth experience."
Business Lending
Running a business is hard enough, don't make it harder on yourself! Trust our extremely skilled and efficient business lending team. Scott Duckworth has the experience and skill to help you accomplish your small business dreams! Jessie Woods is the newest member to our lending management team as she teams up with Scott Duckworth to grow our business lending department and raise it to bigger heights. Scott says, "We are extremely happy to add Jessie to the Chessie Business Department, which will enable us to grow and assist more businesses with their financial needs."
Crab Feast Wrap-Up
With 45 bushels of crabs, dozens of ears of corn, sausages, hot dogs, hamburgers, and the ever-popular custard, the 2021 Crab Feast was a success and as I made my rounds, it seemed that everyone had an enjoyable evening.
As with all of our events, they are made possible through sponsorships. Thank you to AT&T, The Belt Group, Pinnacle Strategies, LLC, Rehab First, and Maryland Broadband Cooperative. We sold 588 tickets. This is the Chamber's oldest event, serving as a vital fundraiser for the work we do as a collective voice for our business members.
We have quite a crew that works to ensure the event runs smoothly, and no one runs out of crabs. Thanks to the Ali Ghan Shrine Club's Motor Corp., for once again serving as the Crabby Crew. Many of the Chamber's Board members manage parking duty, and it's more of artform that you might imagine to allow for seamless departures!
Finally, thank you to Jeremy Irons who serves as Chair of the event. This is a big one for the Chamber and his commitment to its success is much appreciated!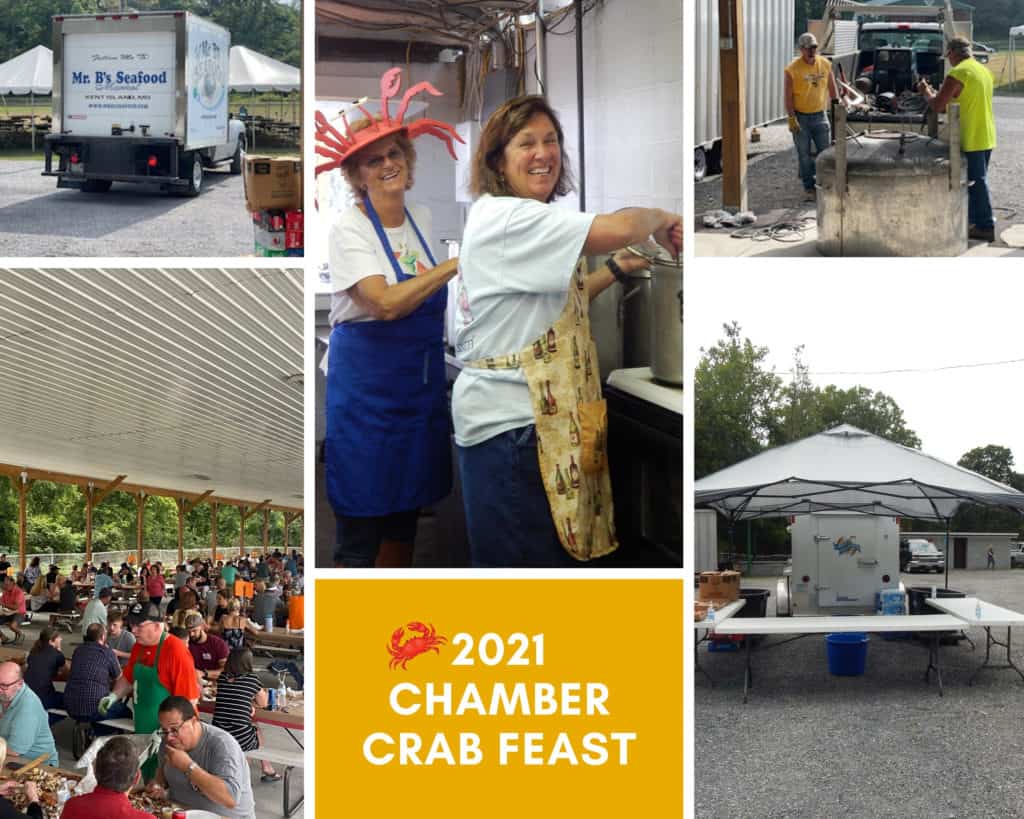 3 Reasons You Should Review Your Insurance Annually
Let's be honest. Insurance isn't the most exciting or glorious part of operating a business. It's something most people would like to set and forget, but it's important to review your policies annually for several reasons.
Things Change
First and foremost, your business needs can change. During an insurance review, your agent will most likely ask questions about the business operations, staffing, revenue, etc. These questions are important because you may have adjusted your business throughout the year without realizing it could affect your insurance. For example, things like offering a new product or service, downsizing your office space, offering delivery services, or increasing staff can all play a part in determining your coverage and premium. The more your agent knows about your business, the more he/she will be able to make appropriate recommendations to meet your needs.
Savings Opportunities
This is the prime time to make sure you're taking advantage of any discounts or savings options. Insurance companies can come out with new discounts, and changes to your business may qualify you for discounts or savings you weren't previously eligible for. Some companies even offer discounts for going paperless or switching payments from direct bill to automatic draft.
Compliance
It's always better to be safe than sorry when it comes to coverage, and proactive is a much better approach than reactive. It's important to read through your renewal documents for limits and exclusions (yes, actually read them), then discuss any questions or concerns with your agent. An insurance review can help identify any potential coverage gaps, or maybe even point out coverages you no longer have a need for. If a particular loss scenario keeps you up at night (we all have at least one), talk to your agent to find out if your policy already has the appropriate coverages. If so, you can rest a little easier. If not, you can proactively discuss alternate solutions to fill any coverage gaps.
TOP 5 REASONS YOU SHOULD HIRE AN EVENT PLANNER
"I can't wait for this day to be over with."
I've heard these words from individuals that chose not to hire an event planner. It crushes me that they so badly wanted their event to end due to the stress and anxiety the planning process had caused them. As an event planner, it is my job to make your day the BEST day of your life. Below, I've explained the top 5 reasons you should hire an event planner.
1. WE ARE PROFESSIONALS – It's that simple: Event Planning is our PASSION. We plan weddings time and time again – learning from past events and adjusting future ones. We know what vendors you should hire, we understand timelines and how to execute your day-of, we're experienced in budgeting, thrive off creating a perfectly executed event and handle the thousands of minute details that can go unplanned for without a professional.
Think about this: When you begin to create a financial strategy for your future, you hire an advisor. When your check engine light comes on, you take your car to a repair shop. When you have to plan for your college education or future career, you consult experienced mentors. In all of these important life situations, you seek expert guidance. Why would you not do the same for one of the most important days of your life?
2. WE HAVE VENDOR RELATIONSHIPS – So many steps go into finding the best vendors for your event, let alone finding vendors at the best price and within your budget. Researching and making calls, reviewing contracts and testimonials, and comparing prices to name a few. Event planners work with tons of vendors every week, all across the regions we service. Not only do we save you TIME by handling the vendor relationships for you, but we also can save you MONEY. Vendors in the service industry need referrals and that sometimes means discounts to get new clients.
3. WE ARE RISK MITIGATORS – You deserve to relax the day of the event, soak in all the happiness and fun, and enjoy every minute of it. The last thing you should be doing is answering 1,000 questions, making last minute decisions, and making sure your vendors execute your vision like you dreamed. That's what you hire someone else to do for you. An event planner is experienced in day-of coordinating and managing every single detail that makes your event extraordinary.
4. WE ARE YOUR NEUTRAL PARTY – As soon as you start planning any event, the ideas start coming in from all angles. Moms, aunts, friends, co-workers, strangers…everyone wants to give you advice, share their ideas, and make suggestions. Of course, it comes from a good place and is truly appreciated, but it's not always advice that supports the vision for your event. It can be overwhelming and stressful to politely decline their suggestions. So – that's what event planners are for – to keep your best interests in mind and make the tough choices for you. After all, we really don't mind if Aunt Cathy is upset that we didn't use her daughter's friend's sister to bake the desserts like she suggested. We are truly invested in executing the event that you've always dreamed of, not what everyone has dreamed for you.
5. WE ARE ORGANIZED AND DETAILED DRIVEN – Not that you aren't… We just know the amount of detail that goes into planning any event, the 10+ vendors that you communicate with weekly, and the thousands of decisions to make and keep track of. That takes a LOT of organizing, a LOT of focus, and a LOT of time and attention that most can't find in this crazy busy life we're all trying to manage.
I am very passionate about event planning – creating, organizing, and executing flawless events. I truly care about the clients that I get to work with day in and day out and am eager to bring your event vision to life. If you're ready to hire a planner, I cannot wait to meet you. It will be one of the best investments you decide to make. Call Sgaggero Event Planning today!
Lucky Ladies
Last week I got to experience my second large event with the Chamber – the Lucky Ladies Night Out. On the heels of the Golf Outing, and the Crab Feast right around the corner, I know we were all thankful for a full Saturday to rest and recover. We sold 150 tickets that gave the ladies a great meal from Wing & A Prayer plus beer, wine and seltzers, and a door prize ticket. Baskets were created by our Chamber committee thanks to generous donations from our members. Baskets were each given a unique and fun name – raffle tickets were sold to bid on each one as our displayer teams walked around to showcase them throughout the evening.
I am not new to events and the enormous amount of work that goes into planning and executing them, but this event brought it all to another level. Planning began in January – LLNO is typically held in March, but after COVID crashed the party in 2020, it was decided to play it safe and cross our fingers for 2021 with an outdoor event. "Teamwork makes the dream work" is probably one of the most annoying phrases of the past few years, but it's true. Timi Hadra (IBM) led our committee to the finish line, making this one of our most successful LLNO events to date.
It's important that I make mention of how vital it is for us to have a reliable, fun, and enthusiastic set of male volunteers to ensure our ladies can chill out, have some drinks, and take a few chances on local restaurant certificates, hotel stays, spa trips, and more. Thanks to those who stepped up, showed up and who did not disappoint in the enthusiasm and theatrical departments, the ladies had a fantastic time.
It has been an exhausting year+ and we have all given up many things, including social interaction. It was a heartwarming experience to see so many people get to reconnect with friends and have fun. I hope you will join us again next year!
Thank you for your support and for helping us to continue to serve our local business community!
Juli
Help! My Internet went out, what should I do?
Most of us need access to the Internet 24/7. It can be frustrating if service goes out for a few minutes or an even longer period of time. Did you know there are trusted troubleshooting techniques that can fix your connection? Below are some easy tips to get you back online.
Untangle your cables and cords. Make sure your wifi router and power brick are plugged in, turned on, and getting power. Verify your connections are tight and secure, and that everything is connected to the correct port or outlet.
Restart, reboot, and verify. It's important to remember your router is a computer, and the most common resolution to computer errors is rebooting the device. Unplug your router's power cord from the wall outlet for at least 20 seconds and plug it back in. If this doesn't restore service, unplug the power brick from the wall outlet for 20 seconds and plug it back in. Finally, power off and restart your computer or device that you are having difficulty with. Wait two minutes, and then attempt to access the Internet.
Still no service? The next step is to confirm your device is configured correctly. If you can browse online with one device, but not another, check the device's network settings. Make sure wifi is enabled under your wifi settings and you are connected to the proper SSID (network) using the right security password. Airplane Mode should be disabled on your devices if you are attempting to access the Internet.
If you are still having problems, make sure there are no viruses or malware on your device. You can download a program (via a Cellular connection) to ensure your system is performing optimally.
At this point, if you are unable to connect any devices to the Internet, you should contact your Internet Service Provider. It may be time to replace your router or update the firmware on your devices. Your provider can verify if there is an outage in your area and complete more specific troubleshooting.
If there are no network outages reported and your Internet connection goes out often, it's probably time to buy a new router. Routers should be upgraded every two to three years.
Many times if you have a problem with your Internet connection it isn't something major. Maybe your pet disconnected a cord or your child unplugged a cable. By following the above steps, you will be surprised at how you can fix the problem yourself!
About us: SkyPacket Networks is a locally-owned Internet Service Provider (ISP) that was created in March 2008. Our business was created with the idea that our area needed reliable Internet where the customer is at the center of our business. Since day one we've stood by our slogan "We don't raise prices, we raise standards". We provide Internet service to residences and businesses in Allegany County, Maryland, Mineral County, West Virginia, and the following counties in Pennsylvania: Lackawanna, Luzerne, Columbia, Montour, Snyder, Wayne, and Union.
Our Chamber of Commerce began as the Retailers Protective Association of Cumberland in 1906, followed by a rebranding as The Merchants and Manufacturers Association of Cumberland, MD in 1912, and just two years later, The Cumberland Chamber of Commerce, Incorporated. For over 50 years, that remained until 1968 when yet another name change was made as the Western Maryland Chamber of Commerce, Incorporated, followed by The Greater Cumberland Chamber of Commerce, Incorporated in 1975. Finally, in 1986, the Allegany County Chamber of Commerce, Inc. was adopted (hopefully for good!).
All of these name changes are indicative of the organization's role in the development, sustainability, growth, revitalization, and overall history of the community. The name is not the only part of our history that has gone through a number of changes. The first offices were located in City Hall until 1921, then the Liberty Trust Building until 1962. Another move to 68 Baltimore St. for a short time, and from there to 42 N. Liberty St. in 1968. In 1973, the organization's offices were relocated to the unique Bell Tower Building where we remain today.
Throughout 2021, we have featured historical articles in our monthly newsletter to highlight the work of the Chamber.
Click to read each month's submission: April, May, June, July, August, September, October, November